and yes we did... we headed up to the Kernville with family and friends last week and we camped right along the Kern River... I mean.. literally.. the river was our front porch.. It was pretty amazing to wake up to and go to sleep with the sound of the flowing river right in your backyard campsite..
the week was full of great food. great company and plenty of rumchata to get the evenings going.. :) oh YUM!!!! the kids had a blast with all the crafts we planned on downtime..... from painting rocks and feathers, doing some journaling to making dream catchers for our tent.. they were busy bees... and just having the river to play in from morning to late afternoons.. their days were quite busy in the great outdoors.. :)
please let me share our beautiful canvas home with you.. this Stout Tent is the tent of all tents... I mean, if you are a tent camper.. this is the tent you need to be in... roomy enough for our entire family and then some and more room for storage and some decor to make it a real glamping experience.. :) oh Yes.. we added decor.. :) true glampers we are!!!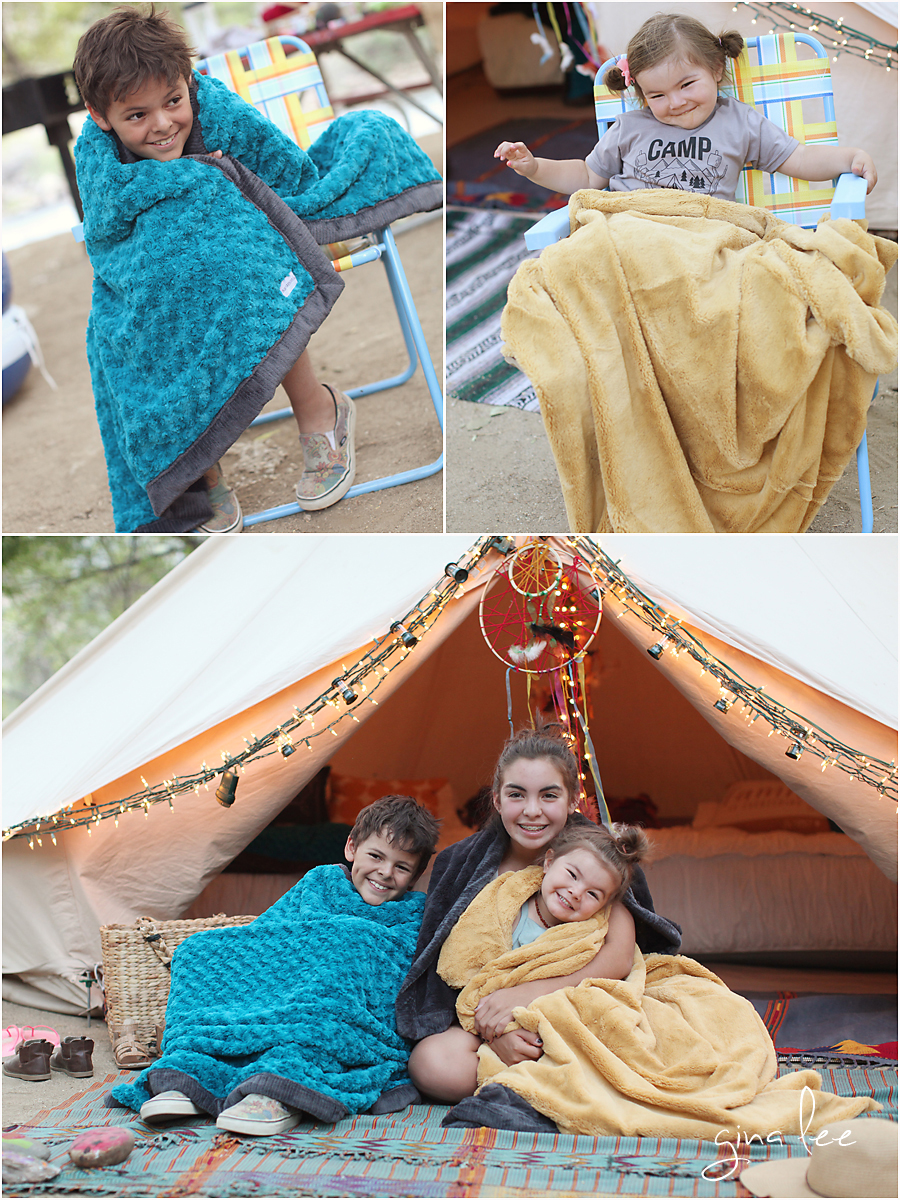 we did bring along Tiny Prints home decor, like some beautiful pillows and to give it a bit more of a glamping experience... I think it just makes it so much more fun when you can bring a lil bit of comfort to the outdoors and make it more enjoyable.... we did forget our coffee for the trip so we used our mugs from Tiny Prints for our crafting station.. they worked out perfectly.. next time reminder for myself... "don't forget the coffee"
Of course we brought our Beddys along as well.. I mean, why not?.... the bedding is perfect for our home and glamping excursions as well.. I mean.. it really is the luxury sleeping bag. They fit right over our 2 queen size air mattresses perfectly.. this is an item, where you kick your self and say "why didn't i think that?" Pure genius Beddys.. pure genius.. a comforter, sheet and blanket all in one... so easy and perfect..
and we did bring along our cozy Saranoni blankets with us to keep the nighttime chill off and to get cozy near the campfire.. if you have not had the chance to feel one of these blankets.. boy.... you are missing out... they are seriously the softest blankets ever.. each of the kiddos has one in their room and it is now a definite must for traveling anywhere we go... you will love them as well...
well.. thank you following along and hopefully maybe the next time you go camping, you can make it a fun glamping experience as well.. :)
~gina
just one more thing... don't forget your very ugly river shoes.. you will need them on the Kern.... :)